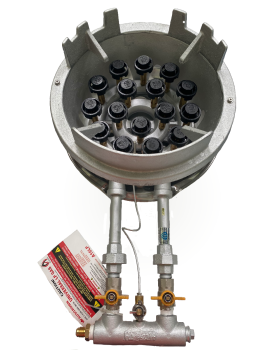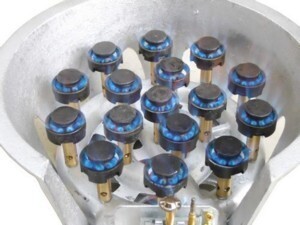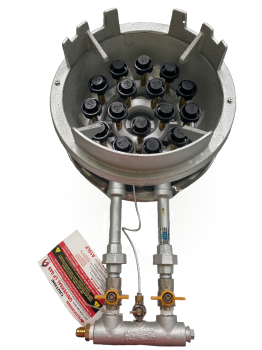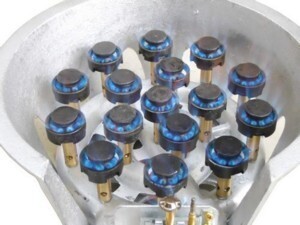 16 jet mushroom burner
$659
Free Delivery
Thsis16 jet mushroom burner is a truly unique burner, each mushroom jet is a powerful burner and are designed to give a beautiful long blue flame.
The special mushroom head burners is designed to spread the heat around the base of the wok, reducing potential "hot spots" allowing the heat to pentrate the food faster and more evenly with greater heat efficiency.
The burner operates on low pressure with out the loud roar but there is no compromise on the high heat!
The mushroom design reduces debris and food from falling into the jet which can block the jets.
The dual ring control gves you great flexibility and precise control on the heat and your cooking. Turn on just the inner 6 jets for a low simmer or both inner and outer ring on for a high powerful flame. Each ring is controlled individually
Quality made in Taiwan
Australian gas approved for outdoor use only
Features
Spec

ification

s
Variations
| | |
| --- | --- |
| Energy Type | Universal LPG |
| Product Dimension (WxDxH) | 330 x 570 x 230mm |
| Product Net Weight (kg) | 14.0 kg |
| Gas Pressure | 2.75 kPa |
| Nozzle Size | 0.58 mmø |
| Heat Capacity | 52 mj/hr |
| Fitting | ½" BSPM |
| Ignition System | Manual |
| Gas Consumption | 1.04 kg/hr |
| Country of Origin | Taiwan |
| | |
| --- | --- |
| Product Dimension (WxDxH) | 330 x 570 x 230mm |
| Product Net Weight (kg) | 14.0 kg |