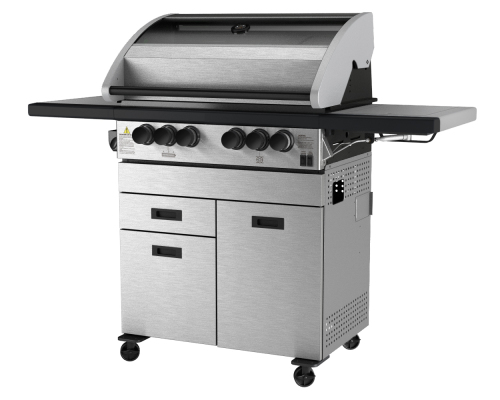 SUPER SPECIAL PRICE
Was: $1,699
$979
SUMMER SALE ITEM! BRAND NEW IN BOX!
A high build quality 4 burner BBQ with rear burner and high powered wokburner. Unique matt black finishes, with rotisserie burner, window & double skinned stainless steel lid.
Bonus cover, rotisserie and 3 piece toolset!
Features
Spec

ification

s
Variations
- High build quality, very sturdy construction with smooth easy sliding drawer. No 'wobble factor'
- Hood: stainless steel, high profile, large window, insultouch twin skin outer hood
- 240v hood lights
- Cabinet trolley: powder coated stainless steel door, convenient storage drawers with rubbish bag rack
- Barbecue frame: gloss enamel with integrated bottle opener
- Cooking surface: matt enamel coated cast iron, 400x485mm hotplate, 400x485mm grill
- Control knobs with led lighting
- Burners: matt enamel coated cast iron
- Ignition: jet flame to all burners
- Flame diffuser: stainless steel
- Total burner output: 83 Mj/hr
- 240v rotisserie AND BBQ cover included!
- Natural gas: $110
- Assembly: $49
- freight: e-mail us your suburb name/post code & we'll quote you.